Press Pause on Menopause!
It's called 'the big change' for good reason.
Just as most of us are hitting our strides in life, we're faced with a myriad of changes caused by fluctuating hormones. The irregular menstrual cycles that signal the end of our childbearing years are packaged up with numerous unpleasant symptoms from hot flashes to weight gain. As estrogen production decreases, so does collagen production. Many of us look to non-surgical medical aesthetics as we navigate aging positively.
This is tricky business. We're still young enough to remember the controversial rise of plastic surgeries and other treatments that have left some of our favorite celebrities barely recognizable. We are ready to explore how to slow the aging process, while continuing to appear natural.
Thankfully, there are new and innovative options to help us hold on to the parts of our youth that make us feel vibrant, while still embracing the natural process of aging. Medical spas are on the rise, and offer clients enjoyable professional treatments to enhance their appearance. These can hit the pause button on some of the more unpleasant physical side effects of aging.
Women experiencing menopause will recognize its hormonal dance. As estrogen dips, so does your skin's production of collagen and elastin. Testosterone levels also fluctuate, leading to dryness that accentuates wrinkles and fine lines. Acne can also make an unwelcome appearance. Moreover, this is the time in your life that all those years of sun damage emerge on your skin as dark spots and an uneven complexion. A skilled professional at a medical spa can work wonders to help you navigate these changes.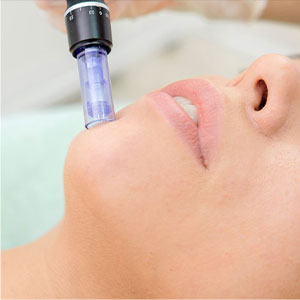 If you haven't heard of microneedling, keep reading.
As a staple in aesthetic medical clinics for over 20 years, microneedling can help us maintain a youthful glow. This minimally invasive procedure involves using tiny sterile needles to stimulate your skin's own healing process. This in turn stimulates the production of collagen and elastin to improve the skin's overall appearance. Clients are first treated with a topical numbing cream to avoid discomfort, and the recovery time is minimal. Treatments are scheduled monthly over the course three to six months in order to achieve maximal results. Studies show 90% of people who have received a SkinPen microneedling treatment series would recommend it to friends and family.
Form Medical Aesthetics in Winnipeg has practitioners with advanced training in microneedling. The newly constructed spa is a treat unto itself, with its welcoming vibe and soothing natural tones. Here, they understand the intricacies people face in delicately balancing acceptance of aging with non-surgical treatments, designed to support your evolving self.

I love the subtlety of this treatment
I love the subtlety of this treatment, with gradual changes that will have everyone guessing what your secret is. As collagen gently restores your skin's tightness, you'll naturally look refreshed.
I was happy to find out that there are ways to enhance the effectiveness of microneedling, and Form Medical Aesthetics technicians are trained in them all. Their treatment options include combinations of microneedling with either radiofrequency or PRP, which is a specialized process by which platelets and growth factors are separated from your own blood, then used to promote faster and more effective skin healing. Both of these options will increase the skin rejuvenating effects of microneedling, helping to accelerate your desired results.
At the same time you're dealing with fine lines and wrinkles, you'll probably start noticing the effects of accumulated sun damage. If you're tired of using concealer on your dark spots, book yourself a photofacial, also known as IPL, to gently erase signs of aging. Similar to single wavelength laser therapy, IPL can improve the colour and texture of your skin by delivering multiple wavelengths simultaneously, treating a larger area in less time. There's minimal recovery time, and the added bonus of increased collagen formation makes it a win-win for treating signs of aging on multiple fronts.
Vaginal rejuvenation treatments are also available. Radiofrequency treatments are used to treat stress and urge incontinence, vaginal prolapse, pelvic floor dysfunction, sexual dysfunction, vaginal dryness and vulvar skin laxity. All treatments are performed by Dr Paterson, a certified gynecologist. 
What I really liked about Form Medical Aesthetics is that they offer a wide variety of services to help clients achieve the results they want. We've spent the last two years in sweatpants, staring at our thumbnail photos on computer screens, or hiding behind N95s. Now's the time to book a consultation with Form medical spa, and they will help you explore treatment options that address your specific needs. 
Investing in your aesthetic and sexual health can improve your enjoyment of life.  Form Medical Aesthetics has an experienced team that will welcome you and any age-related concerns you may have. They will customize a treatment plan to achieve your goals. Invest in yourself by choosing one of their safe and non-surgical options, and press pause on menopause, or even hit the rewind button!